Our Montessori dual-language curriculum is incredibly unique; its financial needs are greater than your average school. Amigos de la Academia Sandoval raises money to bridge the gap between what Sandoval needs and what DPS provides.
Our mission is to raise money for educational purposes so that Sandoval can deliver a high quality public education to our student population. Historically, we have raised money for tuition assistance, teacher salaries, paraprofessional salaries, professional development for teachers, field trips and school supplies. During the past 10 years, Amigos has raised over $1,000,000!
Amigos de la Academia Sandoval is recognized by the IRS as a 501(c)(3) tax-exempt organization; our tax ID is 73-1627986.
---
Monthly Giving (9 month subscription):
One Time Donation:
Meet Amigos' leadership for the 2018-2019 school year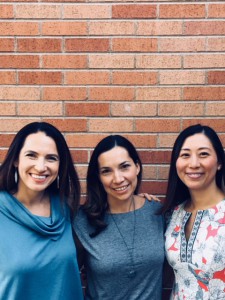 Name: Lyric Turner
Students at Sandoval: 3 daughters! ECE4, 4th Grade, 6th Grade
Hails From: Colorado
Occupation: Business owner of two Washington, DC based companies (a large home staging company, Red House Staging & Interiors and an Interior Design studio, Hudson & Crane)
Favorite thing about Sandoval: its Whole-Child approach to education and the life-long friendships forged inside the parent community
Favorites in the Neighborhood: Vital Root on Tennyson for lunch, the coffee at Method Collective on 32nd and Tejon, and Illegal Pete's for when I don't want to make dinner!
Name: Alexie Devine
Students at Sandoval: 5th grade daughter; 3rd grade son
Hails From: Austin, TX
Occupation: Director of Synergy; Substance Abuse Treatment Agency for adolescents under the Dept. of Psychiatry with CU Medicine.
Favorite thing about Sandoval: The community and shared values among the families. The dual language component is very important to me and dear to my heart.
Favorites in the Neighborhood: Stella's Trattoria for Brunch; Pinwheel Coffee (supports DMHS); Parisi (love the pizza salad!!) and El Jefe (Great Margaritas).
Name: Tara DeShano
Students at Sandoval: Son in Kindergarten
Hails From: Colorado
Occupation: Business owner of Flourish Supportive Living, specializing in supportive living services for individuals with brain injury.
Favorite thing about Sandoval: The diversity of the school and the dual language model. I also love the engaged and active parent community.
Favorites in the Neighborhood: Highland tap and burger, Bar Dough, The Bindery, Senor Bear, Avanti and Illegal Pete's – the best part is that these businesses also support Sandoval!